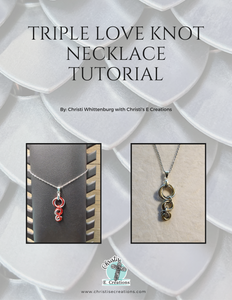 Crafting a mesmerizing Triple Love Knot Necklace is an adventure in creativity and elegance. Our comprehensive tutorial equips you with the skills and knowledge to turn your vision into a stunning reality.
What You'll Get:
Detailed PDF Tutorial: Our tutorial is delivered as a digital download, giving you instant access to the instructions to bring your Triple Love Knot jewelry to life. No waiting for shipping, just dive right into your creative journey.
Please Note:
This is a digital download. No physical materials will be mailed to you.
Explore Our Kits:
For a seamless and convenient crafting experience, check out our selection of triple love knot jewelry kits on our website. Each kit includes everything you need to get started on your project.
Unlock the magic of the Triple Love Knot and embark on a crafting adventure that's as fun as it is informative. Start today and watch your jewelry dreams come to life!