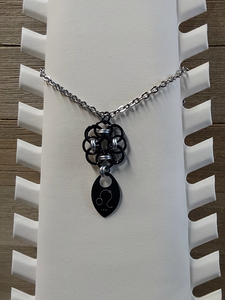 Introducing our captivating Helm Flower Onyx (Black) and Platinum (Silver) Zodiac Scale Necklace—a stunning way to showcase your zodiac sign with a touch of chainmaille artistry. Each necklace is meticulously crafted with a unique design that combines an etched scale featuring the constellation of your zodiac sign with the exquisite Helm Flower motif.
Handcrafted with attention to detail, this necklace is a celebration of your zodiac sign. The etched scale with the star constellation represents the essence of your sign, while the Helm Flower symbolizes strength and protection.
Wear this necklace proudly as a representation of your zodiac sign and embrace the beauty and symbolism it holds. It's a perfect accessory for astrology enthusiasts and anyone seeking a distinctive piece that combines artistry and personal connection.
Product Details:
This necklace is made to order. It will normally ship within 5 business days of ordering.
Made with Anodized Aluminum
Colors used are Black (Onyx) and Silver (Platinum)
Pendant measures approximately 2 inch long
20 inch stainless steel chain
Since this is a handcrafted item, there can be some small tool marks on the piece. Please remember this when purchasing. Any ring with obvious damage is not used.
As always, all my chainmaille can be custom-made to fit your style. I keep 18 to 20 colors in stock and can order even more colors than that.