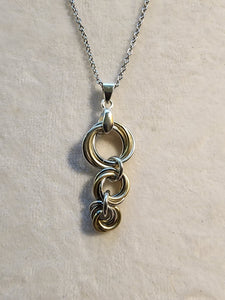 Craft a mesmerizing Triple Love Knot Necklace with our comprehensive jewelry-making kit. This all-inclusive kit is thoughtfully designed to provide you with everything you need to create a stunning necklace that embodies the power of love and unity.
Inside the kit, you'll find carefully selected materials, including a variety of jump rings, a necklace chain, and you can purchase a tutorial to help you along. With these components at your fingertips, you can confidently embark on your creative journey and craft a breathtaking Triple Love Knot Necklace.
Whether you're a beginner or an experienced jewelry maker, this kit provides a rewarding and enjoyable experience for all skill levels. With just two pliers and your creative spirit, you'll bring the Triple Love Knot Necklace to life, creating a cherished piece that can be worn with pride or gifted to a special someone.
Elevate your jewelry collection and celebrate the beauty of love with our Triple Love Knot Necklace kit. Unleash your creativity, embrace the symbolism of unity, and craft a stunning necklace that captures the essence of eternal love.
Do not find the colors you want in a kit? We can custom make a kit with the colors you would like.